AUTOMOTIVE
Zero Electric Vehicles Inc., an Arizona company that designs and manufactures kits that convert gasoline-powered commercial vehicles to electric power, says its new thermal management system for lithium-ion batteries significantly improves battery performance and extends battery life.

"ZEV's immersive method to passive battery temperature control is a significant breakthrough in LIB thermal stability across operating temperatures and fast charge/discharge cycling, improving battery performance, cycle life and safety for ZEV customers," said Dr. A.M. Kannan, ZEV's chief scientist and a professor at Arizona State University's Polytechnic School.
Lithium-ion batteries, which are widely used in electric vehicles, require thermal management systems to prevent overheating. Active thermal management systems use air or liquids to cool battery cells, but such systems consume electrical energy. ZEB's passive system uses a plant-based phase change material to absorb excess heat, maintain safe operating temperatures and prevent thermal runaway.
ZEV partnered with Arizona State to develop the system. The company was founded in March 2020 and now has more than 70 employees. It recently signed a joint development agreement with battery manufacturer KORE Power Inc. to "design, develop and manufacture low-cost, highly configurable electric vehicle solutions that accelerate electrification of the transportation sector."
Kannan answered questions about ZEV and its technology by email.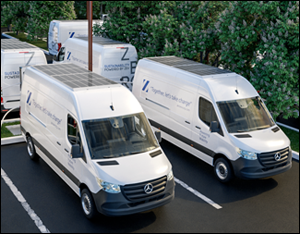 Q: Who are your key customers?
A: "Commercial Class 2-8, Passenger Sedan and SUV Segments."
Q: Are the EV conversion kits described on your website commercially available?
A: "Yes, the EV conversion kits are available through ZEV. Partnered ventures are under development for training and licensing the conversion kits outside ZEV."
Q: Is the PCM-based passive thermal-management technology available in your current kits?
A: "It will be added into our future models targeting market from Q4 2022."
Q: How is the thermal-management technology different from other PCM-based battery cooling systems on the market, such as EGO's line of lawn mowers and other battery-powered equipment (https://egopowerplus.com/battery-info)?
A: "The eutectic PCMs with relatively lower melting point have higher latent heat capacity and wider operating temperature range."
Q: What are the technical specs of the PCM used in the system (peak melt point, heat storage capacity in joules per gram, etc.)?
A: "35°C, 179 KJ/Kg."
Q: In what material is the PCM encased?
A: "Aluminum."
Q: Which PCM manufacturer supplies the PCM?
A: "The PCM materials are procured from chemical suppliers and the eutectic PCM mixture is prepared at ZEV."
Q: How much PCM is used in a conversion kit for cargo and passenger vans?
A: "36 to 108 liters, depending upon the size of the battery pack."
Q: Will the thermal management technology be used in all your conversion kits?
A: "Yes."
Q: What does a typical cargo/passenger van conversion kit cost?
A: "US $35,000 to $40,000."
Q: What is the typical driving range of a converted cargo/passenger van?
A: "90-150 miles."
Q: How many PCM-equipped conversion kits do you expect to sell in 2021 and 2022?
A: "2022: 1000+."

PATENTS
U.S. patent application 20210269582 (applicant Microtek Laboratories, Dayton, Ohio):
"Radiation curable phase change solutions (PCM) and said solutions as a thermoset thermal energy gels (a radiation cured polymeric network) has a hydrophobic PCM, a polybutadiene urethane acrylate oligomer soluble in the hydrophobic PCM and present as 7% wt/wt to 25% wt/wt of the gel, a photoinitiator soluble in the hydrophobic PCM and present as 0.01% wt/wt to 0.5% wt/wt of the gel, a mono-functional or di-functional crosslinker soluble in the hydrophobic PCM and present as 0% wt/wt to 10% wt/wt of the gel, and a hydrogenated styrenic block copolymer as a secondary resin as 0% to 20% wt/wt of the gel and optionally a tertiary resin as 0% to 5% wt/wt of the gel, wherein the tertiary resin is a hydrogenated styrenic block copolymer that is different than the secondary resin. The solution or gel is sealed in a container, e.g., a sachet, to form a cold pack."
U.S. patent application 20210276227 (applicant Sikorsky Aircraft Corp., Stratford, Connecticut):
"A method of fabricating a composite structure includes laying at least one composite ply about a bladder, the bladder comprising a phase change material in a first phase having a first volume, positioning an outer mold about the bladder and the at least one composite ply, and curing the at least one composite ply to form the composite structure. Curing causes the phase change material contained within the bladder to change to a second phase to expand from the first volume to a second volume and apply a pressure to an interior surface of the composite ply and press an outer surface of the composite ply against the outer mold to form an interior cavity. The bladder is not removable from the formed interior cavity."
U.S. patent application 20210293017 (applicant Owens Corning Intellectual Capital LLC, Toledo, Ohio):
"An insulation product demonstrating enhanced insulative properties is described herein. Generally, the insulation product comprises a fibrous insulation component and a phase change material. In certain embodiments, the phase change material may take the form of a layer disposed on a surface of the fibrous insulation component or interposed within the fibrous insulation component."
U.S. patent application 20210292630 (applicant Cold Chain Technologies LLC, Franklin, Mass.):
"Gel including a phase-change material and a gelling agent. In one embodiment, the phase-change material may be n-tetradecane, n-hexadecane or mixtures thereof. The gelling agent may be a high molecular weight styrene-ethylene-butylene-styrene (SEBS) triblock copolymer with a styrene:rubber ratio of about 30:70 to 33:67% by weight. To form the gel, the phase-change material and the gelling agent may be mixed at an elevated temperature relative to room temperature to partially, but not completely, dissolve the gelling agent. The mixture may then be cooled to room temperature."
More U.S. patent applications:
Transportation refrigeration system (Carrier Corp., Palm Beach Gardens, Fla.) | Coated open-cell polyurethane foam structures (Dow Global Technologies LLC, Midland, Michigan) | Thermal management system (BAE Systems, London) | Temperature compensating element and pipe (Linde GmbH, Pullach, Germany) | Phase change material composition (Agency for Science, Technology and Research, Singapore) | Thermally insulated container (Laminar Medica Ltd., Tring Hertfordshire, Great Britain) | Transport container system (va-Q-tec AG, Würzburg, Germany) | Double-shell phase change heat storage balls (Wuhan University of Science and Technology, Wuhan, China) | Automotive battery box (Constellium Automotive USA, Van Buren Township, Michigan) | Heated dome for food service (EGC Enterprises Inc., Chardon, Ohio) | Cooling body support cushions and pillows (Soft-Tex International, Waterford, N.Y.)

IN BRIEF
• Registration is open for the 9th Swiss Symposium Thermal Energy Storage, to be held at the Lucerne University of Applied Sciences and Arts on Jan. 28, 2022. The participation fee is 300 Swiss francs. The symposium will also be streamed online, with a fee of 150 Swiss francs.
• Advanced Cooling Technologies Inc. of Lancaster, Penn., has posted more than a dozen job openings. "We're looking to hire R&D engineers with thermal backgrounds, at any experience level," Richard Bonner, vice president of research and development, wrote in a recent LinkedIn post.
• Sonoco ThermoSafe of Arlington Heights, Ill., has posted an opening for general manager. The ThermoSafe general manager is "accountable for the safe and profitable operation of the business including setting and executing commercial and operational strategies, overseeing all facets of the business, shaping the work environment, and growing the business."
• With support from SAMRIDH Health, Pluss Advanced Technologies plans to double production of its Celsure temperature-control shippers to 6,000 boxes per month and establish local warehousing and PCM freezing facility in Hyderabad, India, to meet demand from Bharat Biotech and other vaccine manufacturers.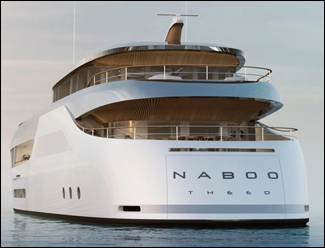 • The Naboo, a zero-emissions superyacht conceptualized by Barcelona's Hidden Portside design studio, features solar panels, an electric propulsion system, ultrareflective metallic paint and "a range of smart PCMs" to help keep the interior cool.
• Tower Cold Chain Solutions is opening a new global headquarters in Theale, about 30 minutes from London's Heathrow Airport. The 26,000-square-foot building will expand Tower's container conditioning and storage capacities. The company says enhanced lab and testing capabilities will speed further development of reusable temperature-controlled pharmaceutical supply chain solutions.
• Sunamp Ltd. has raised 6 million pounds ($8.3 million USD) investment from the Scottish National Investment Bank. "This is to increase #thermalstorage sales in the UK, scale up production and accelerate international expansion," the company said in a LinkedIn post.
• Sunamp's Permafrost VacSafe shipper won the Physical Technology of the Year award at the Energy Awards 2021, held in London on Sept. 22. Developed with the University of Edinburgh, the vaccine shipper uses dry ice and a phase change material to maintain a temperature below -70 deg C for up to 24 days.
• Guy Frankenfield, energy market manager at DN Tanks, will be among the presenters at the Association of Energy Engineers World Conference, to be held Oct. 20-22 in New Orleans. He will discuss the challenges of constructing large thermal energy storage tanks.
• A British-Iraqi research team has proposed the use of multiple phase change materials with various melting points for the passive cooling of solar modules. Reports PV Magazine: "The novel approach … increases the storage density of the cooling system and makes it able to hold larger energy content, which in turn removes the heat generated by the PV panels. This system configuration is also claimed to allow lower melting rates and longer thermal management of the modules."
• PCM-enhanced fabric developed by Outlast is integrated in a new line of protective aprons for medical professionals. Trivitron Healthcare's SpaceD radiation protection aprons are designed to absorb excess body heat and keep the wearer comfortable during lengthy surgical procedures.

RESEARCH ROUNDUP
From Energy and Buildings:
• Inorganic phase change materials in thermal energy storage: A review on perspectives and technological advances in building applications
From Heat Transfer Research:
• Improving Thermal Performance of Solar Water Heater Using Phase Change Material and Porous Material
From Applied Energy:
• Design and control of radiant ceiling panels incorporating phase change materials for cooling applications
From Nanomaterials and Energy:
• Sodium Acetate based Hydrated Salt for Solar Thermal Storage
From Recent Trends in Thermal Engineering:
• Cooling Methods for Solar Photovoltaic Modules Using Phase Change Materials: A Review
From Powder Technology:
• Porous biochar/heptadecane composite phase change material with leak-proof, high thermal energy storage capacity and enhanced thermal conductivity
From ACS Omega:
• Study of Capric–Palmitic Acid/Clay Minerals as Form-Stable Composite Phase-Change Materials for Thermal Energy Storage
From Solar Energy:
• Mechanical and thermal performance assessment of paraffin/expanded vermiculite-diatomite composite phase change materials integrated mortar: Experimental and numerical approach
From Energy:
• Mitigation effects on thermal runaway propagation of structure-enhanced phase change material modules with flame retardant additives
• Experimental study on the thermal management performance of phase change material module for the large format prismatic lithium-ion battery
• Thermal properties of a cement composite containing phase change materials (PCMs) with post-pyrolytic char obtained from spent tyres as a carrier
From Energy Storage:
• A Novel Analytical Approach to Study the Charging Characteristics of a Shell and Tube Thermal Energy Storage System
From
Composites Part B: Engineering:
• A novel three-dimensional network-based stearic acid/graphitized carbon foam composite as high-performance shape-stabilized phase change material for thermal energy storage
From Journal of Energy Storage:
• Experimental investigation of water flow window system and numerical modeling of solar thermal energy storage with phase change materials on the way of nearly zero energy buildings
• Numerical investigation of melting enhancement for paraffin in an innovative finned-plate latent heat thermal energy storage unit
• Short-period thermal cyclic test device for large volumes of microencapsulated phase change materials using a Venturi injector
• Thermal performance investigation of door opening and closing processes in a refrigerated truck equipped with different phase change materials
• Thermal energy storage with phase change materials in solar power plants. Economic analysis
From Case Studies in Thermal Engineering:
• Investigation of heat energy storage of RT26 organic materials in circular and elliptical heat exchangers in melting and solidification process
• Successive melting of a phase change material bounded in a finned trapezoidal domain
From International Journal of Mathematics in Operational Research :
• Simulation of a phase change material for an automotive thermal insulation system
From International Journal of Energy Research:
• Characterisation of commercial phase change materials with potential application in gypsum boards for buildings
From Construction and Building Materials:
• Evaluation of thermal properties of phase change material-integrated artificial stone according to biochar loading content
From International Journal of heat and Mass transfer:
• Prediction of melting characteristics of encapsulated phase change material energy storage systems
NETWORKING
Connect with PCM experts and industry leaders on LinkedIn
More than 1,600 people have joined a LinkedIn group devoted to the discussion of phase change material and thermal energy storage. You are invited to join the Phase Change Matters group and connect with PCM and TES experts from around the world.
This month we welcome Emma Castellano, internal sales manager at Peli Bio Thermal, Leighton Buzzard, England; Fabian Fischer, thermal engineer at Modis for Airbus, Immenstaad, Germany; Andreas Kjällander, head of temperature control management at World Courier, Stockholm, Sweden; Abhishek Singh Kashyap, Ph.D. research scholar at Indian Institute of Technology, Ropar, Rupnagar, India; Muhammad Usama, robotics and intelligent machines engineer,
Pakistan; and Bob Boulden, North America sales manager at Croda, New Castle, Delaware.

NEWS TIPS
Does your company, agency or university have a job opening, new research, new product or other news you'd like to share? I would love to hear from you. Please contact newsletter editor Ben Welter at benedict.welter@gmail.com.

A WORD FROM OUR SPONSOR
This newsletter is made possible through the generous support of the RAL Quality Association PCM and the members listed below. To learn more about the association, including membership benefits, please contact Stefan Thomann, executive director, at info@pcm-ral.de.
Axiotherm GmbH | Croda Europe Ltd. | ISU Chemical Co. Ltd. | RuhrTech | Microtek Laboratories | PCM Technology | PLUSS Advanced Technologies | PureTemp LLC | Rubitherm Technologies GmbH | Sasol Germany GmbH | Sunamp Ltd. | va-Q-tec AG
MEMBER SPOTLIGHT: Rubitherm Technologies GmbH | Berlin, Germany
Rubitherm offers PCMs in the temperature range -50°C to +100°C, in bulk as well as encapsulated in metal or polymer containers depending on your needs. A strong focus in the research department is saving energy in housing by applying PCM. Besides the product line PhaseCube , Rubitherm recently started exploring further opportunities in the project iclimabuilt (supported by the European Union's Horizon 2020 Research and Innovation Programme). Contact Rubitherm if you are interested in developing or applying new PCM products.